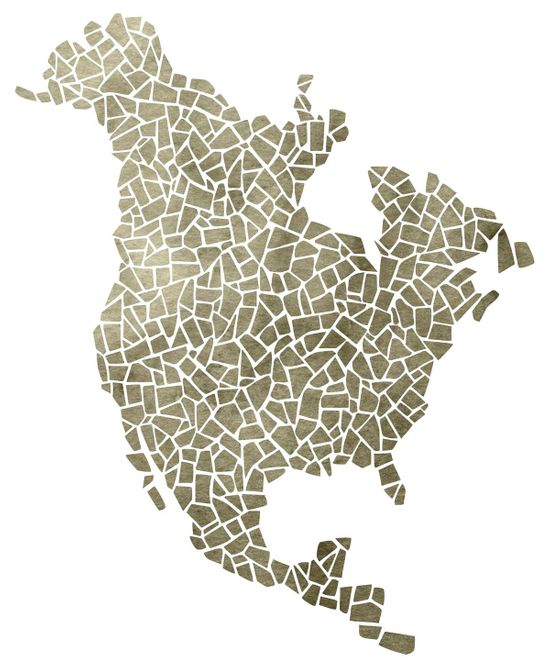 North America
This great continent spans five time zones, presenting a wonderful diversity in climate, geography and its wildlife. Twice the size of Europe, North America incorporates 23 countries, each of them offering stunning attractions to the global traveler. While it is the most densely populated of all the continents, it's also the wealthiest, with a GDP per capita greater than any other. This all makes for an impressive, comfortable continent to explore.
Straddling the USA and Canada is Lake Superior, by far the largest of the many Great Lakes. Across the expanse of the continent, vast deserts make way to the Great Plains, and forests splendid with towering trees. Magnificent mountain ranges stretch the length of the continent. Great rivers and spectacular waterfalls include the mighty Mississippi River and the spectacular Niagara Falls. These habitats are home to a great diversity of birds and animals, including bears, bison, reindeer, wolves, beavers, mountain lions, moose, elk, alligators and of course, the majestic bald eagle.
The fifty states that make up the United States of America each have their own rich character and heritage; making this country a traveller's dream in itself. Its history is well preserved by museum and monument, while every modern attraction is catered for by a nation that regards entertainment and hospitality high on its list of cultural priorities. Massive theme parks are dedicated to the whims of children and adults of every age and interest, and world class hotels and resorts are ready to accommodate your every need.
The other nations that make up North America are just as intriguing, each in their own special way. Canada's great outdoor attractions compete with its vibrant cities for touristic favor, while Mexico and Cuba are steeped in their unique cultures and histories. Then there are also the sun-splashed island attractions of the Caribbean, or for an adventure of a completely different kind, Panama and Guatemala beckon.
Wherever you'd like to go, Mosaic Safaris is well equipped to design an itinerary to suit your every need. See our Virtual Journeys below, then let us prepare one especially for you.
Explore Our Virtual Journeys
These are samples of adventures we've created for some of our clients to give you an idea of what we can do for you. Because each person is different, and personalizing travel plans is what we do.

So, where will it be?
Mosaic Safaris will curate your luxury journey to visit anywhere in the world, and suit your every need without the surprises that a self planned trip might bring. Your journey of a thousand miles begins with this single step…